How a Sloppy List Can Sabotage Your Email Marketing
Savvy direct marketers know that the list is the most important factor in the success of a direct marketing campaign. That's why so much time and effort goes into keeping mailing list data current and complete.
But too many direct marketers fail to pay this same kind of attention to the cleanliness of their email lists. Case in point: The Wall Street Journal.
Know Your Prospects – and Your Customers
I've subscribed to the print edition of The Wall Street Journal for more than 25 years.  When the Journal launched a web edition a few years ago, I subscribed immediately.
I've always used the same email address for my Journal web access, daily email updates, and print subscriber records. So imagine my surprise to get this recent email from WSJ.com inviting me to become an online subscriber.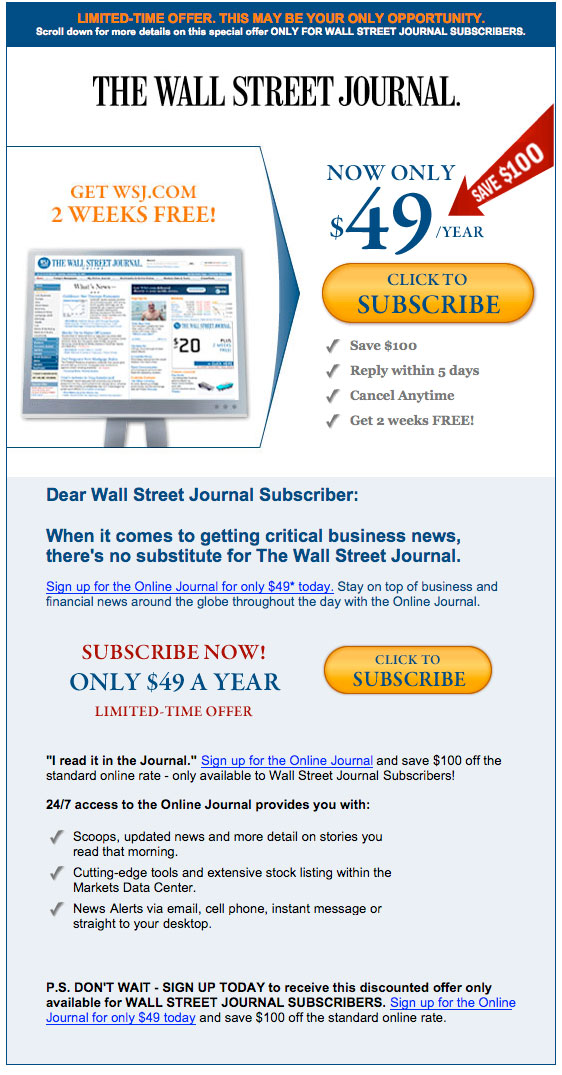 The first clue that the Journal had blown this promotion was the salutation in the email subject line: JEAN M, Limited Time Offer.
It's a rare individual who goes by their first name and middle initial; in fact, I can't think of anyone. This probably happened because the original data entry for my subscriber record erroneously placed my middle initial in the first name field.
This violates a fundamental principle of direct marketing: Sloppy data entry = sloppy addressing. But it's still possible to fix it. The Journal's data could be easily cleaned up to take middle initials out of first name fields. Or they could have used my full name as the subject line salutation default.
"JEAN M, We Hardly Know You"
But the real issue with this email is that the Journal doesn't seem to know me at all.  Because they don't properly manage their subscriber data, they think I don't subscribe to their online edition.
I don't really expect this company to know me personally, but it's disheartening (not to mention annoying) to realize that the Journal sees me as a record on an email prospect list rather than a 25-year subscriber.
5 Lessons for Your Smart Marketing Strategy
Here's what smart marketers can learn from this major marketer's email hygiene failure:
Like all direct marketing, email marketing is still all about the list. Customer email addresses should be merge/purged against prospect email addresses before any promotion goes out, period.
Poor data entry leads to addressing disasters. Take a hard, top-to-bottom look at how your customer database is being built to ensure high standards for data quality at every step.
If you're promoting via multiple direct marketing channels (email and direct mail, for example) or if you're delivering content, products, or services through multiple channels, you must integrate your data to create a single view of the customer to avoid promoting products to customers that they're already buying.
Think about every promotion from the customer's point of view, especially if different departments of your company are marketing different products to customers.  Every time you interact with a customer, it impacts their relationship with you and their perception of your brand. It's imperative that your marketing teams coordinate their efforts.
Double check everything before you click "send" on that next email promotion.