Success in a Box: The Power of Dimensional Direct Mail in B2B Marketing
What if you got a real mailbox – a full-size, metal mailbox – sent to you at your office? Would you open it?
You bet you would.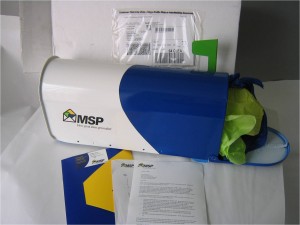 MSP, a direct marketing services company in Pittsburgh, has been sending real mailboxes to its best prospects for nearly 10 years. I still remember my reaction — "Wow!" — when I opened the mailbox I received from MSP in 2004.
Six years later, MSP's mailbox remains the single best example of effective B2B lead generation dimensional mail I've ever received.
Here's how MSP deploys dimensional mail in its smart marketing strategy, and five lessons for every B2B marketer using direct mail to generate leads.
Direct Marketing as a Lead Generation Tool
As a B2B marketing consultant, I often recommend direct marketing as a lead generation strategy. But when the target audience is C-suite executives, it can be challenging to create direct mail that reaches the executive's desk.
Many B2B direct marketers use dimensional mail to get executives' attention. Dimensional direct marketing campaigns commonly include a premium related to a creative theme. Depending on the premium and shipping costs, dimensional mail can be a big investment, so it's usually mailed to a small list.
How a Smart B2B Marketer Uses Dimensional Mail
MSP provides printing, mailing, and database management services to direct marketing companies. According to Kirstan Tervo, Director of Marketing and New Business Development at MSP (who signed the letter I received in 2004 and is still with the company), MSP launched its mailbox campaign in 2001.
Mailboxes are custom-painted and branded with MSP's logo and colors. Personalized inserts are stuffed in the box and shipping is via FedEx. Each piece costs about $60.
MSP's sales reps determine who should get the mailbox – typically senior executives at direct marketing companies the rep has identified as a best prospect. The goal is a prospect meeting. Tervo says that many prospects agree to a meeting and a significant percentage of those become clients.
A 10-Year Winner
Why has this mailing been successful for nearly a decade?
"It's a high statement piece," Tervo observes. "When we go in for meetings, the prospect always takes us to where the mailbox has landed in their office. A few have taken them home and repainted them to use as their own mailboxes!"
Tervo says that the campaign's success doesn't mean dimensional mail will always work or that a campaign has to cost a lot. "Our mailbox works because it's different, not because it's expensive," she notes.
For a preshow mailing last year, MSP mailed cocktail napkins purchased at Wal-Mart with hand-written notes offering "a drink on us" (bottled water at the MSP booth) to a carefully screened list of show attendees. The inexpensive napkin generated a very high response rate and "a ton of compliments," Tervo says. "With postage, it cost us $207."
5 Lessons for B2B Lead Generation Success
What can other B2B marketers learn from MSP's success? Here are five lessons:
Aim for impact. Forget mailing golf balls and coffee cups. Send something the prospect doesn't expect. Make them say "wow" when they open your package.
Pick a creative theme relevant to your company. MSP says it is the company "where great ideas get mailed." What better way to demonstrate that than to mail a great idea?
Keep it simple. Dimensional doesn't have to be complex to be good. "Sometimes the simplest concepts generate the best response," Tervo notes.
Target, target, target. Dimensional mail should be sent only to a small, hand-picked list of your very best prospects.
Involve your sales team. Work closely with sales to select recipients and pinpoint the exact decision-maker to be targeted at every prospect company.
The Best Advice? Put Yourself in the Prospect's Shoes
Tervo advises direct marketers to view their campaign from the prospect's point of view. 
"Think about your audience and what they see on a daily basis," she says. "How many pieces of direct mail are they getting a day? How much email? Why would they want to respond to your mail, your email, your phone call? What makes you different?
"If you took all our competitors' sales collateral and ours and put them on a table and blacked out our names, could you tell the difference? Probably not," Tervo acknowledges."If someone sent me a postcard promising a Kindle or an iPad, I'd pitch it. But if someone sent me something unique, out of the blue – like a mailbox – I'd take the call."
Great B2B direct mail gets prospects to take the call. And it's a smart marketing strategy.