21 Tips for Power Networking: When the Product is You
If you break into a cold sweat at the thought of walking into a business networking event as a complete stranger, you're not alone.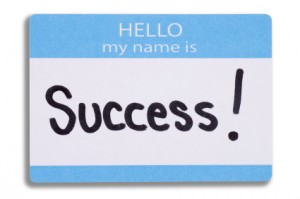 Networking is essential to building and growing a business, especially for business-to-business (B2B) marketers who participate in professional associations and trade shows.
But it takes skill and experience to feel confident in a networking situation, and it takes careful planning to capitalize on the value of networking for lead generation.
Here's what I've learned about personal marketing and successful networking at B2B events, and 21 tips you can use to make networking a powerful component of your smart marketing strategy.
Before, During, and After the Event: How to Network Well
When I started a marketing consulting and creative services business in Cleveland nearly 20 years ago, I was new to Northeast Ohio. So I began attending business networking events sponsored by regional advertising and marketing organizations to meet colleagues and vendors who might become clients, referral sources, or collaborators.
Participating in networking events where I didn't know anyone forced me to step up and market myself. I soon discovered there were many things I could do before, during, and after an event to be a better networker.
Before the Event
1. Choose wisely. You want to be at meetings with people who will share your interests and value your capabilities. Study an organization's website to see if the meeting topics relate to your expertise and its members are people that someone in your business should know.
2. Set your objectives. Decide the outcome you want from each event. For example, your goal might be to meet two prospects, identify a potential collaborator, check out a competitor, or evaluate opportunities the group offers for boosting your visibility and generating leads. Keep this goal in mind as you prepare to chat and circulate.
3. Scope out the attendees. If registration is online, review the LinkedIn, Facebook, or Evite guest list in advance to see who's coming that you want to meet. If you can't view the attendee list online, get to the event early and scan badges on the registration table to see who you know and who you want to know.
4. Prepare your pitch. Think about the one thing you want everyone you meet at this event to remember about you and your business. That's your elevator pitch. Practice it until you have it down. Tailor your pitch to the organization if appropriate.
5. Dress for success. First impressions are everything. You need to look like the professional that you are. Invest in clothes and accessories that say, "I'm successful."
During the Event
6. Get the lay of the land. Scan the room to see how the event flows (food, drinks, speaker, etc.) to determine where you want to be and where you want to sit.
7. Seek out the leaders. Find the president, event chair, or a board member and introduce yourself. Ask for help getting introduced. Saying "I'm new here" makes people want to reach out to you.
8. Study badges. It's okay to look at someone's badge and ask a question about it, especially if the attendee's badge has a special ribbon or pin designating their involvement in the group.
9. Be friendly. Get in the drink line and strike up a conversation with the person next to you. Approach someone who's standing alone. They'll be grateful to have someone to talk with and may end up being the best contact you meet.
10. Be curious. Ask an introductory question about a person's company or title. "Tell me about [company name]. What is your role there?"
11. Be open. Everyone you meet could be someone you'll want to know later. Be polite and friendly to everyone; they might become your vendor or client someday or talk about you to others.
12. Don't sell too hard. Describe what you do and how it helps your customers, then back off.
13. Listen more than you speak. People want to talk about themselves. Focus on the person you're conversing with, not on your sales pitch. Ask good questions and be a great listener.
14. Be prepared. Don't fumble for a business card. Carry your business cards in your pocket or a case you can easily and smoothly reach. Make sure your cards have your current contact information.
15. Keep moving. Not every conversation should be a long one. To disengage from someone, politely excuse yourself by saying, "I just saw someone come in that I need to connect with. It was great meeting you."
After the Event
16. Make notes about who you met and what they told you about themselves and their businesses. Add this information to your contact management system.
17. Give more than you take. Look for ways to send business to colleagues. See how you can help the person you just met, instead of expecting help to come your way.
18. Follow through. There's no point in making a connection, then dropping it; you appear unreliable and shallow. Send a "nice to meet you" email, connect on LinkedIn, follow them on Twitter, and fulfill any other next-step promise you made, such as an offer to introduce your new contact to someone else or send information.
19. Be professional. Demonstrate excellence in all that you do. Don't make typos in follow-up emails. Look like a professional in all your future interactions, especially written communication.
20. Say thank you. Thank colleagues for referrals and references and let them know what happened when they referred you. It's an essential business courtesy.
21. Read the cues. If someone fails to respond to several polite efforts you make to get in touch with them after an event, they're not interested in being part of your network. Move on.
A Final Tip
Business networking can be almost as nerve-wracking as public speaking, but the more events you attend, the better your skills will be. Take a deep breath as you enter the room and remember why you're there. You have something valuable to offer. Be confident about it.