To BRC or Not to BRC? The New Direct Mail Strategy Question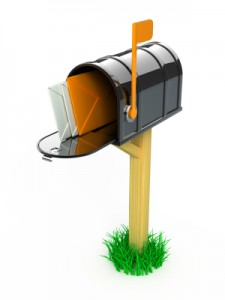 Take a look inside the next direct mail package you receive and you might discover something's missing: The reply card.
Business reply cards (BRCs) and reply forms with postpaid envelopes (BREs) have been core elements of direct mail since the medium began. But they've been notably absent from some recent direct marketing campaigns I've received.
Is this a new trend? A test? A fundamental shift? Here are some insights for your smart marketing strategy.
5 Possible Factors Driving this Approach
The classic elements of a direct mail package are a carrier envelope, a letter, a brochure or other inserts, a reply form, and, if the reply form is not a prepaid BRC, a reply envelope.
But some direct marketers are beginning to eliminate the printed reply device. What's behind this new approach to direct marketing? I believe it's a combination of five factors:
Personalized URLs (PURLs):  PURLs have given direct marketers powerful ways to completely personalize the response experience. When you go to a website via a PURL, your response information is pre-populated and the web page may be totally customized to you. It not only feels extremely personal, but it's also easier; in a click or two, you've completed the response transaction.
Costs: Another reason to leave out the reply device is costs. Smart direct marketers are always testing ways to shave pennies off production and postage costs. Cutting the reply form, BRE, or BRC not only saves money on the outbound package, but also the reply postage, which the mailer must pay.
Sophisticated Audiences: What's most interesting about this approach is its prevalence in mailings targeting upscale consumers. Exclusive Resorts, a luxury resort membership program, has only a toll-free number and a PURL as the response device in its package. The same is true of Chase's direct mail campaign for the Marriott Rewards Card, and Chase's Continental Presidential Plus credit card, which charges a $395 annual fee after the first year. Direct marketers for such high-end offers may believe their sophisticated prospects are savvy enough to know how to reply without a paper response form; such prospects may even prefer it and find it more personal.
The Ubiquity of the Web: With lightning speed, the web has transformed modern life. Nearly every type of activity or transaction – from social interaction to financial decisions – now has the web at its core. Responding to direct marketing is just one more way we're using the web to do things we used to do differently. Web response is much faster than filling out and mailing a written form; it may even be faster than calling a toll-free number.
Cross-selling to Customers: Many of the direct mail packages I've seen without printed reply devices are from companies I already do business with, such as American Express, AT&T, and Time Warner Cable. When a marketer is cross-selling additional services to customers, a reply form may be unnecessary, since the customer is used to interacting with the marketer via phone or the web.
Why Deleting the Response Form May be Worth Testing
The ability to test creative approaches and offers is one of the primary reasons I recommend direct marketing campaigns to clients of my marketing agency. Deleting the BRC or reply form with BRE may be worth testing.
Other direct mail formats, such as postcards, don't have reply forms.  Catalogs, which used to have full-page order forms and bound-in reply envelopes, now often delete both, instructing customers to order by phone, a website, or a retail store. So there's no reason to believe that direct mail recipients who get a package without a  printed response device won't know how to respond.
For some direct marketers, however, deleting a reply form may not be a good option. Nonprofits that use direct marketing include reply forms and BREs so donors can mail back checks. In other cases, the printed reply device may be important to increasing the reader's involvement with the mailing or making a strong call to action.
What do you think? Is it a smart marketing strategy to get rid of the response form in your direct mail package? Is it worth testing?  As a marketing consultant, I'll be watching the evolution of this new direct marketing approach.