B-to-B Marketing: The Power of the Personal Note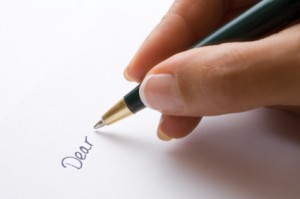 There's a simple business communication tactic that can have a huge impact on how your clients and prospects feel about you and your organization: The handwritten personal note.
Here's why personal notes are so effective in building strong client relationships and how to use personal notes in your smart marketing strategy.
Why Personal Notes Work
Business-to-business marketers often use customer relationship management (CRM) systems to create regular touches with clients and prospects. CRM brings discipline to the communication process, which can be helpful in a long B-to-B sales cycle.
But CRM isn't enough to build real relationships with real people. You also need one-to-one communication from you to the client or prospect.
You could send an email, a LinkedIn message, or a text. You could send personalized direct mail.
But the gold standard in business communication is the handwritten note. Here's why:
It's unusual. In a typical business day, you're lucky to get one handwritten note.
It's almost guaranteed to get past gatekeepers and reach the decision-maker's desk.
It sets you apart by making you a person who is perceptive, attentive, and memorable.
Most important, it makes the recipient feel that someone they do business with cares enough about them as an individual to take the time to write.
6 Tips for Using Personal Notes
Follow these six tips to use handwritten notes effectively in business marketing and communication:
1. Look for opportunities to write: Find reasons to send personal notes to clients and prospects, such as:
Thanking someone for their business, their loyalty, or a referral;
Sending congratulations or condolences;
Sharing news;
Extending a personal invitation to an event;
Acknowledging a development at your own company or the client's company.
2.  Make it truly personal: You are writing to one individual and this should be reflected in the content and tone of your note. The recipient should never feel they've received the same note you sent to ten other people. And you should handwrite the envelope, too.
3. Use proper stationery: You're representing your company and yourself as a trusted service provider, so high-quality stationery bearing your company's brand is a must. Ask your marketing team to design nicely formatted note cards and envelopes; it's a small investment with a big payoff.
4. Practice: If you're unsure exactly what you want to say, write a draft on your computer first so you can edit and polish your message before you write it by hand.
5. Making note-writing a habit: Set aside 15-20 minutes on a specific day of the week to send notes. Make note-writing a scheduled event in your week and a regular business practice.
6. Train your staff to write notes. Every person on your team who interacts with clients or prospects — or who seeks referrals to generate new business — should be trained to write personal notes. It's a powerful way to strengthen all kinds of business relationships.
A Final Tip for Your Smart Marketing Strategy
One of the smartest people I've ever known, the late, great Mike O'Hara of the AB&C Group, who was a dear friend and the first client of my marketing agency, taught me an important lesson when I launched my business in Cleveland, Ohio in 1992.
"Business is all about relationships," he told me. "Getting clients is one thing, but to keep them, you need a great relationship."
Mike was right. CRM systems can help facilitate relationship-building and play an important role in a smart B-to-B marketing strategy. But when your marketing communications plan also includes real, personal, human communication, you'll have a much better chance of building relationships that last.
Take a minute right now to think about the people you do business with, especially your most important customers. Which ones could you write notes to today?