4 Simple Lessons in Branding from Blackie, the Stray Cat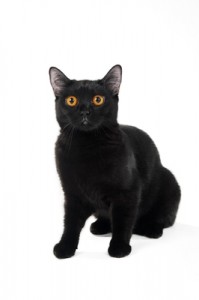 There was a stray black cat in my neighborhood near Cleveland, Ohio. The three little girls who live next door fell in love with him, so they convinced their parents to adopt him and make him their pet. And of course, they gave him a name: Blackie.
I love this name because it's so simple and descriptive. He's a black cat; his name is his color. To a child, this makes perfect sense. My niece and nephew once had a brown dog with white paws; her name was Sox.
As a marketing consultant, I think Blackie the cat and Sox the dog offer some helpful reminders about the principles of effective branding. Here are some branding insights for your smart marketing strategy, as demonstrated by the future marketers in the house next to mine.
What Marketers Can Learn About Branding from a Cat
If you're creating a new brand for your company or product, you're about to make a sizable investment in marketing. The cost of creating the branding strategy and brand identity is only the beginning. The real cost is deploying and promoting the brand in marketing campaigns. For major consumer marketers, this can cost millions of dollars.
Even if your company is a small one with a much smaller budget, branding is critically important. Your brand is the public representation of everything your business stands for. You'd better get it right.
So what does Blackie have to teach us about branding? Some basic principles that can be easy to forget when you're in a big conference room with your marketing agency brainstorming branding ideas:
Make it simple. People are overwhelmed with information and they don't have the time or energy to learn a hard name. Blackie's name is two short syllables and it's easy to say and spell.
Make it descriptive. Brands like Xerox® and Exxon® are made-up words that had no meaning until they became names of companies. I've never been a fan of brand names people have to "learn" to get. Blackie's name is a great example. It's the color of his fur. Enough said.
Make it memorable. You can invest a lot of money in advertising and marketing campaigns to make people recognize your brand, but it will happen a lot faster if the brand is easy to remember. When I see a black cat skulking in the bushes and driving my dog crazy, I know who it is.
Make it distinctive. The brand you select should be yours alone, with nothing comparable in your marketplace. There's no other Blackie (or even another black cat) in our neighborhood. Blackie owns his brand identity.
Okay, But Blackie? How Realistic is this Example?
Granted, Blackie is a simplistic example of branding. And it's not likely you'll be able to come up with a name you can trademark for a business or a product that's as short and descriptive as the name of a cat that's been derived from a color.
But if you look at some of the top brands that have been launched in recent years — such as Facebook, Pinterest, and one of my favorites, SkullCandy headphones and earbuds — you'll find identities that are simple, descriptive, and memorable.
My advice is to think about branding in the clear-minded way a child would. Select a brand identity that anyone can relate to, that sets your product or company apart in your marketplace, and that's short, straightforward, and easy to say and remember. That's a strong branding foundation for a smart marketing strategy.
A final note: When I was a kid growing up in Toledo, Ohio, I had a brown dog. Guess what I named him?