Make 'em Love You: 10 Ways to Be the Client's Go-To Supplier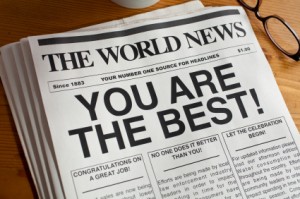 External suppliers are critical to the success of nearly every business. Some vendors become trusted partners. Others have good intentions but struggle to deliver. A few fail so miserably they'll never get a second chance.
Over the past 20 years, my Cleveland, Ohio marketing agency has hired dozens of creative and production vendors. We've seen the good, the bad, and the ugly and we've gained some valuable insights into what makes a great client-vendor relationship.
Here are 10 tips from our experience about how to become a client's favorite vendor.
10 Tips for Becoming a Preferred Vendor
Share ideas and knowledge. Clients welcome suppliers who can offer ideas, knowledge, and experience that will produce a better outcome.
Ask questions. The best vendors ask smart, insightful questions to fully understand the client's needs. If you're not sure what the client is asking for, don't make assumptions. And if you can think of a better way to do the job, speak up.
Be honest about your capabilities. A printer once assured us they had in-depth expertise in Personalized URLs (PURLS) for a direct marketing campaign, but couldn't produce any samples. If you aren't 100% sure you can do the work, be upfront about it. You and your client will both be sorry if you fail to come through.
Deliver excellence. It seems obvious, but suppliers should take every step to deliver a high-quality product. No one's perfect, but when a vendor falls short on quality control, the client suffers the consequences.
Be consistent. Sometimes a supplier produces outstanding work for one job and mediocre results the next time. Businesses need vendors they can count on; no one should have to worry the supplier might not come through this time.
Meet deadlines. The supplier's promises about delivery impact the promises others make, internally and externally. When you make a commitment to a client, keep it.
Communicate. Always keep clients posted on the progress of their job, especially if you've having issues or need information.
Don't surprise the client on the invoice. If the scope of work changes and extra charges will be required, tell the client right away, and before the costs are incurred. Don't wait until the invoice to deliver the news.
Say thank you. Always thank the client for giving you a chance to be part of their team.
Look for opportunities to refer the client. We've had several new business leads from marketing vendors who've referred us to their clients. This isn't expected but it's always appreciated.
Your Goal: Earn the Client's Trust
As president of Gianfagna Strategic Marketing, Inc., my job is to create and execute smart marketing strategies that deliver results. Like anyone who runs a business, I want vendors I can trust to consistently and dependably produce great work.
When a company gives you an opportunity to become their supplier, follow the best practices of business — responsiveness, dependability, honesty, quality, and creativity — to build strong relationships and become a preferred vendor.