11 Days, 11 Emails: A Lesson in Marketing Overload from Loft
Retail marketers often use email to promote sales and products to customers and prospects that have opted in to receive email communication.
It's a smart marketing strategy when it's done right. Email is extremely cost-effective and the best email marketers use data to target and personalize their promotions, addressing the customer by name within the email and featuring merchandise related to the customer's past purchases. Amazon.com is the king of this type of personalized, targeted, retail email and their sales reflect their success.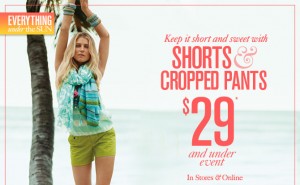 But when it's done wrong – especially when it's overdone – retail email marketing can annoy the customer and ruin the relationship, particularly when the customer is new.
Case in point: Ann Taylor Loft. Here's how this retailer bombarded a new customer with 11 emails in the first 11 days of the relationship and provided a powerful example of how NOT to do retail email marketing.
The Big Question: "Can I Have Your Email Address?"
I recently bought an outfit at Ann Taylor Loft near my home in Cleveland, Ohio and ordered a pair of slacks. During the transaction, the sales associate asked for my email so Loft could send confirmation of the shipment.
That same day, I received two emails from Loft: "Your order is confirmed." "Your order has shipped." Fast and accurate. We're off to a good start.
Then, the onslaught began. Every day for 10 of the next 11 days, I received a promotional email from Loft. "40% off our favorite summer styles!" "Our sale just got even better!" "Make a glam getaway!" "It's all about color: New arrivals are here!" You get the idea. Yesterday, on day 11, I received two Loft emails.
4 Lessons for Smart Marketers from Loft's Marketing Misfire
Email is a great marketing tool and an effective tactic in a customer marketing strategy, but only when used judiciously AND when the marketer uses data to deliver a message that's meaningful, relevant, and personalized to the recipient.
As a marketing consultant, I admire the colorful, engaging visuals and bold, commanding headlines in Loft's emails. They certainly know how to get attention.
But Loft is making four critical email marketing strategy mistakes:
Don't start by selling. After the two transactional emails about my order, Loft's next email should have been a warm welcome to me as a new customer. They could have used this email to build anticipation for promotions and events they'd be sharing with me in the future. Instead, they started off selling and haven't stopped.
One order does not a relationship make. A customer's first order is a valuable opportunity for a relationship, just like a date is an opportunity that might lead to a marriage. But never assume that a single order means the customer can't wait to order again. Your goal is a second date. Proceed accordingly.
No personalization = no connection. Except for the order confirmation email, nothing in Loft's barrage of promotional messages has been personalized to me. There's no reference to my prior purchase, the location of my nearest store, or even my name. I'm just one of the masses of women who shop at Loft. It doesn't exactly make you feel appreciated.
Know when to say when. There's a fine line between enough and too much marketing and Loft has crossed it. If you're planning an email campaign, put yourself in the prospect's or customer's shoes and think about what amount of email would be both reasonable and welcomed. I guarantee that it's probably not daily. If you're unsure, err on the side of caution.
Will I shop at Loft in the future? Of course. It's a great store and I really like their look and style. But they're on the verge of getting kicked out of my email inbox–and that's a lost opportunity for both of us.