Why There's a QR Code on Your Banana
QR codes – those funny-looking, square-shaped symbols with pixelated, black-and-white patterns – are showing up everywhere in advertising, signage, and product packaging.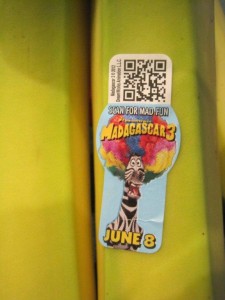 I even found a QR code on my Dole banana this morning, advertising the movie Madagascar 3.
Our Cleveland, Ohio marketing agency is now using QR codes in nearly all marketing campaigns we create for our clients.
Here's why QR codes are becoming ubiquitous in marketing and 7 tips for using QR codes in your smart marketing strategy.
Why Marketers Like QR Codes
"QR" is short for "quick response." A QR code is a link to a website. With a QR reader app on a smart phone, you take a picture of a QR code, which immediately takes you to the web page linked to that code.
QR codes offer many powerful advantages to marketers:
Nearly everyone has a smart phone

and many smart phone users take pictures with their phones. Using a QR code reader app is simple and easy (though you will need to download an app; so far, smart phones don't have built-in QR code readers).
QR codes are

a direct marketer's dream

, offering a simple, immediate way to respond to a marketing call to action.
Clicking a QR code

engages the prospect

with the marketer and creates an opportunity for meaningful communication.
Creating a QR code for your marketing campaigns is

easy and free

. There are many websites that can instantly produce a QR code for a URL. See the links below.
You can

create as many codes as you need for different ads

, with customized landing pages to match.
7 Tips for Using QR Codes in Your Smart Marketing Strategy
Try it yourself

. Download a QR code reader to your smart phone and scan codes to see how other marketers are using QR codes and mobile marketing effectively. See the links below.

Create engaging landing pages. Develop a high-value landing page to engage the visitors who scan your code and reach your website. The Madagascar 3 QR code on my banana is a co-branded marketing campaign between Dole and Dreamworks offering a page of "Mad fun!" The web page has a free game, movie preview, banana recipes, and an invitation to join the Dole Mobile Club.
Get creative with your code design. QR codes can be homely, but smart marketers are finding clever ways to use QR codes as design elements. Macy's is one example of how a marketer can effectively integrate a QR code into a presentation of the company's brand. You can also use color.
Develop targeted landing pages. If you're creating a code for a specific ad, offer, or marketing channel, develop a landing page with relevant messaging and offers.
Don't overdo it. There's no need to oversize a QR code to gain attention (unless that's part of your graphic design) or to place it so prominently on an ad or product packaging that it takes away from the product or brand message.
Test the code. Use readers from multiple phones to test a QR code before you run an ad or go to print.
Be consistent. Integrate QR codes with your advertising and branding standards so you can use them consistently in ads, brochures, signage, and packaging.
How to Learn More
Here are some helpful links for getting a QR code reader and creating codes for your marketing campaigns: