Big Ideas in a Blue Box: A B2B Direct Marketer Gets It Right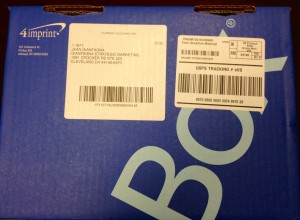 Direct mail is a powerful tool in business-to-business (B2B) marketing. As a long-time proponent of direct mail, I feel like celebrating when a great B2B mailing lands on my desk.
4imprint, a promotional products company in Oshkosh, WI, is using direct mail to turn new customers into repeat buyers.
Here's what 4imprint is doing right with B2B direct marketing and 12 lessons from their success for your smart marketing strategy.
Using Direct Mail to Turn a New Customer into a Repeat Buyer
I own a marketing consulting and creative services firm in Cleveland, Ohio. We often order ad specialties and premiums for our clients' marketing campaigns and trade shows.
We recently ordered a thermal tumbler from a new supplier we found on the web, 4imprint. Their order processing was flawless and the product quality was first-rate. We put 4imprint on our "use-these-guys-again" vendor list.
Then, 4imprint sent us a new customer welcome kit – our first Blue Box® mailing – and knocked our socks off.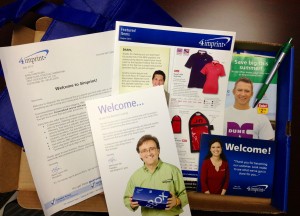 Applying 12 Proven Principles of Smart B2B Direct Marketing
Through the Blue Box campaign, 4imprint is applying many proven principles of smart B2B direct marketing to build relationships with new customers:
Target the right customer. 4imprint identified us a marketing agency and a top prospect for future business. Instead of just adding us to their catalog mailing list, we were targeted to receive a multi-part direct marketing campaign.
Build anticipation. A pre-mailing or email in advance of a campaign lets the customer know something special is coming. 4imprint sent a thank-you email after processing our first order: "To welcome you into our family, you'll be getting a special Blue Box in the mail within the next 2 weeks. The box is literally blue and tucked inside you'll find some nifty free samples."
Use dimensional mail to stand out. Dimensional mail (a box, tube, padded bag, or other three-dimensional container) stands apart from flat mail and begs to be opened. By sending us a box, 4imprint jumped to the top of our mail pile.
Develop a strong creative theme. A creative theme ties the elements of a direct marketing campaign together. 4imprint's campaign theme – blue boxes – is simple and memorable. The "blue" theme even extends to their content marketing: An insert in the box links to "Blue Papers" on their website via a QR code.
Make the customer feel important. New customers want to feel special. 4imprint's welcome package has a personalized letter from the president, who also sent the thank-you email. His picture is on the top insert with a big "welcome" message.
Personalize the message. In addition to a cover letter, the mailing includes a "Featured Items" newsletter with personalized messages to me on the cover, inside, and back cover.
Use every space to sell. The back of the president's letter isn't blank. It's a 2013-14 calendar branded with the company's logo, toll-free number, and website, a nice touch that turns a throwaway piece into a keeper.
Include a gift. B2B direct marketers often include premiums in mailings to get attention and engage the recipient in the package. Since 4imprint is a promotional products company, you'd expect a free branded premium and they gave us two: A pen and a tote bag.
Mail in a series. B2B direct mail often works best when it's a series of mailings over a planned time period. 4imprint says they'll be sending me Blue Boxes over the next year. This helps ensure that future mailings will be recognized and opened.
Humanize the company. Showcasing your staff is a great way to differentiate your company from other B2B services providers. 4imprint features real staff members throughout the mailing and their years of service.
Invest in great photography. Professional photography is always worth the investment. From products to staff members, every image in the package is sharp and professional, placing the company a cut above competitors.
Show some heart. One surprising insert profiles the company's donations of promotional products to charities in its onebyone® program. It's a refreshing human touch that makes the company memorable and admirable.
One Strategy Suggestion for 4imprint – and You
Using direct mail to turn new customers into repeat buyers is a smart marketing strategy. As a lifelong direct marketer and a provider of direct marketing strategy and creative services to my clients, I get pretty excited when I see a B2B marketer using direct mail so effectively.
4imprint does almost everything right in this campaign and I applaud their efforts. I also have a recommendation: Include a financial incentive with a limited time offer to get us to order again, like a coupon or discount code.
Perhaps 4imprint will test this in a future mailing. In the meantime, hats off to 4imprint for doing direct mail right.