The Best & Worst of Agent/Dealer Direct Mail: 2 Case Studies
Direct mail is a common marketing tactic for supporting dealers and agents who sell consumer products and services. Using geographically targeted data, the home office or corporate headquarters sends direct mail to prospects with content personalized to the local dealer or agent.
When it works, it can be marketing dynamite. Effective agent/dealer campaigns generate leads from qualified buyers, drive retail traffic, and make the phones ring.
When it fails, it can be a disaster. Campaigns that miss the mark irritate prospects, waste the marketer's money, and wind up in the trash.
Here are two examples from Acura and State Farm Insurance of the best and worst of agent/dealer direct mail and some lessons for your smart marketing strategy.
How Acura Got Direct Mail Right
Acura, the luxury vehicle division of Honda Motor Company, provides a brilliant example of how to use data and an engaging creative approach to deliver a high-impact direct mail message.
Here's the two-panel, 5.5" x 8.5" selfmailer we recently received from Airport Acura, a Cleveland dealer.
Right from the start, the marketer grabs our attention on the mail panel by referring to one of our current cars: a 2011 Honda Civic. The back panel gets even more interesting with a "personal offer to buy back your Civic" and an estimated value of "up to $12,243." The back panel even features a picture of our Civic in the right color, black (though this could have been a coincidence).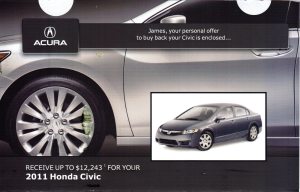 Inside, Acura uses the estimated value of our current car to propose a trade-in, trade-up deal on a 2015 Acura. There's a great Johnson Box at the top: "James, upgrading to a 2015 Acura ILX Base is more reasonable than ever…" followed by a large, can't-miss graphic of the math: MSRP minus the value of our trade-in and the bottom line (to "upgrade," not purchase—a smart choice of words).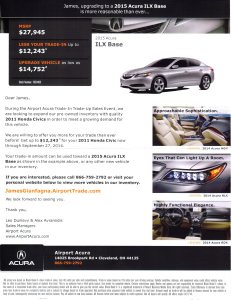 The call to action includes a visit to our "personal website," a personalized URL (PURL).
Why did this mailing succeed?
Data: Acura used accurate car owner data that's readily available on compiled consumer databases to deliver a message that's as personalized as it can get. The mailing is mass produced but it feels like it's just for us. The data approach enables the prospect to visualize the transaction – "Here's what I'll get for my car and here's what it will cost to upgrade."
Targeting: With our car buying history and our demographics, we're the ideal target for an Acura pitch.
Creative approach: Visuals of the car and smart use of color make this a "look-at-me" mail piece. Note the smart use of the color orange to highlight the PURL and make the phone number pop from the black background.
Car ownership data can be found on many compiled consumer files and it's also possible to overlay car value data on individual files to determine what a specific car is worth. Acura uses this extremely effectively.
My only suggestion to Acura would be to provide the name of an individual at the dealership who's waiting for our call. For a high-end purchase like a luxury car, the buyer wants a very personal, one-to-one purchasing experience. Other than that, it's a winner.
How State Farm Got Direct Mail Wrong
On one day last week, I opened my mailbox and found three identical direct mail packages. The carrier was a #10, closed-face, white envelope. All mailings were identically addressed to J. Gianfagna. The only variation between the packages was the return address. One was from State Farm Insurance in Monroe, WI and two were from State Farm agents near my Cleveland home.

Inside each package was the same letter offering auto insurance for my teen driver. The only variation between the letters was the signature: Three different State Farm agents at three different regional office locations, all within 10 miles of my house.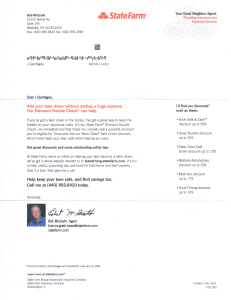 These State Farm mailings are a gigantic fail for several reasons:
Duplication: State Farm's agent direct mail program isn't set up to prevent duplication. Since there have multiple agents in my area, all those agents are part of the program and I get mail from every one of them. This breaks one of the fundamental rules of direct marketing: Dedupe the list – or at the very least, stagger the mailings over time to give each agent some direct marketing support.
Targeting: State Farm is targeting the wrong message to the wrong prospect and looking silly in the process. I no longer have a teen driver in my home. In fact, my kids are adults. This type of data is readily available on consumer databases. Even worse: One of my friends is a State Farm customer who has teen drivers and lives in my community. She did not get these mailings.
Creative approach: Is there anything less compelling in the mail than this boring, ink-jet-addressed envelope with no message and no visuals? This piece screams "promotional-mailing-not-really-meant-for-you." The only reason I opened it is that I'm a marketing consultant who pays attention to direct mail – and I got three copies of the mailing on the same day.
Bottom Line: Do Direct Mail Well or Not at All
Direct mail remains a powerful marketing tool for a smart marketing strategy to support local agents or dealers.
If you're using direct mail in an agent/dealer marketing plan, get your data right, use your data effectively to deliver a relevant message, create a mailing the prospect will want to open, and plan every step of the mailing process to eliminate duplication and prevent avoidable mistakes.