10 Reasons to Create Your Next Ad Campaign in Cleveland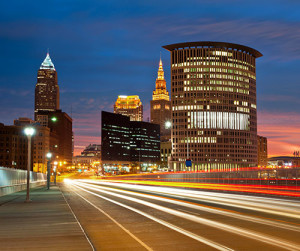 Are you looking to create a great advertising campaign for your organization? Come to Cleveland.
That's right, Cleveland, Ohio. We're not Madison Avenue or even Michigan Avenue, but some of the best advertising and marketing campaigns in America are being produced in Northeast Ohio.
Here are 10 reasons why Cleveland is a terrific advertising town and a great place to create and execute your smart marketing strategy:
Momentum: There's genuine momentum building in Cleveland and not just because LeBron James is back and the Republicans (smartly) picked us for their 2016 nominating convention. Cleveland ad agencies are growing fast and picking up more and more national and global accounts.
Talent: The caliber of creative talent in Cleveland rivals any market. Take a look at the online Show Book from the recent AAF-Cleveland ADDY Awards. The judges were blown away by the campaigns coming from Cleveland agencies for big brands. Even small shops are producing world-class work.
Authenticity: If you want your marketing to resonate with real people – to reflect the way people actually talk, think, and feel – welcome to Cleveland. We're as real as it gets and we know how to create marketing people can relate to and remember.
Affordability: From agency fees to production costs to travel expenses, you'll find nearly all the costs of a campaign created in Northeast Ohio more affordable than one created on the coasts.
Values: It's not a cliché: People in the Midwest really are nice and we share common, down-to-earth values that make for productive working relationships, like friendliness, honesty, politeness, and sincerity. Want to work with people like that? You'll find them in Cleveland.
Support: From printers to photographers, app developers to marketing strategists, Cleveland has a huge network of versatile, highly capable marketing services suppliers.
Seasons: Cleveland is an ideal location for year-round outdoor video or photography. Trees with stunning fall colors, gorgeous summer days on the water, blooming springtime gardens, or a sparkling winter wonderland: We've got it all.
Locations: If your campaign requires a desert location, take us off your list. But almost any other setting — urban, rural, small town, waterfront, bridges, forests, historic buildings, contemporary architecture – is in or easily accessible from Cleveland. In fact, you can be in most of these places in an hour or less.
Food: Hey, advertising is hard work and marketers need to eat. Cleveland really has the edge here, with a burgeoning local food scene led by innovative, increasingly famous chefs. Jonathon Sawyer of Greenhouse Tavern just got nominated for the James Beard Award and Time.com just rated Cleveland the 7th best food city in America – ahead of places like New York, Chicago, San Francisco, and New Orleans. Trust me on this – the food here is incredible.
Community: The Cleveland chapter of the American Advertising Federation (AAF-Cleveland) has been the creative connector of the regional marketing communications community for more than 100 years. Granted, I'm not unbiased on this one (I'm chapter president) but as a marketing planner and strategist, I know the value of having ready access to a vibrant, friendly, engaged community of advertising pros.
Come On Over — We're Home
This is no slam on New York, Chicago, Minneapolis, Dallas, Seattle, Los Angeles, and any of the other great advertising cities in America. I salute them.
But I also urge smart marketers looking for effective advertising to broaden their horizons and think beyond the biggest markets. Come see us here in Cleveland. I think you'll like what you find.