How to Turn a Product Shipment into a Branding Opportunity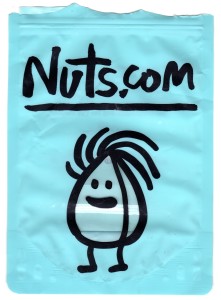 Shipping products to customers can be pretty straightforward. Pick the product from inventory, pack it in a shipping container with relevant literature, and ship it.
But a product shipment is a golden opportunity for branding. Here are two examples of very different marketers – Nuts.com and Chanel — who are transforming product shipments from routine transactions into branding and marketing magic.
Nuts about Nuts at Nuts.com
Nuts.com is a family-owned distributor of nuts, candy, dried fruits, coffee, tea, and baking products with what is surely the best URL in the nut industry. We ordered Jordan almonds from Nuts.com as favors for my daughter's wedding last summer in Cleveland.
This company's passion for nuts doesn't just come through on its website. On every surface of its product shipment, the zany people at Nuts.com make it clear that they're "nuts" about nuts.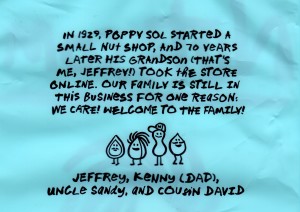 The product packaging is adorable, especially the message on the back from the family members, all represented by cartoon characters.
But lots of marketers have effective product packaging. What I find even more interesting from a marketing strategy standpoint is the box that brought our order.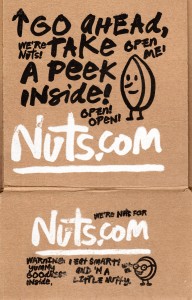 On the top, bottom, and all sides are messages delivered by cartoon nut characters sharing the company's excitement about the delicious products you're about to experience. Here are some examples of this fun, fabulous box copy:
"What are you waiting for? Taste me, I'm Nuttastic! Watch out, it's nuts in here! We're nuts at Nuts.com! there's nuttin' we can't deliver! Cashew later!"
"Nuthing brightens my day like a nuts shipment! CRACK ME OPEN! Open me! You're SOOO close now! Goin' nuts since 1929! PSST! I'm nuts!"
"3 generations of business, no kidding! We're nuts about nuts! Mmmm! Kiss me, I'm nuts!"
And on the bottom flaps of the box, the last place you'd expect to find a branding message, are these gems:
"Keep going! You can't stop now! Nuts! Nuts! Nuts!"
"Guaranteed to go Nutty! We mean it! Enjoy these delicious treats and let us know what you think! We're nuts, totally nuts!"
It's corny and charming and extremely effective – note that the URL is everywhere – and a masterful example of how a brand's persona can permeate an entire shipment and deliver a powerful impact. Plus, the Jordan almonds were great.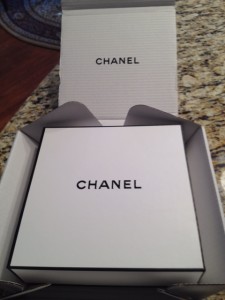 Creating the Chanel Experience in the Shipment
Another marketer that brings its brand to life in a product shipment is Chanel. I placed a cosmetics order on the Chanel website and look how it was delivered.
While the exterior shipping box is nothing special, inside, Chanel uses sophisticated printing techniques and beautiful materials to create a tactile, elegant experience that exemplifies the brand's image and delights the customer. Check out these details:
The first interior box is a heavy, white container with a corrugated interior and the Chanel logo on the inside and out.
Inside is another box: The white top has a soft, satin-finish paper printed with an embossed, high-gloss brand logo; the bottom is black.
Inside is tissue paper printed with a subtle Chanel logo wallpaper wrapping the order. The tissue's adhesive seal is the Chanel logo, black on black, in three dimensions.
A free product sample – an unexpected bonus of five lipstick samples and a brush – is elegantly blister-packaged, inserted in a sealed envelope, and placed atop the tissue.
Then comes the product itself with Chanel's iconic velvet drawstring bag, nestled in shredded white packing material.
Finally, there's the order confirmation form, but even this is elegantly presented in a black envelope imprinted with a black, gloss Chanel logo.
That's how you ship two packages of blush. With each little detail, Chanel makes the customer feel like they've received something very, very special. It's as close as Chanel can come to replicating the in-store experience and it's brilliantly executed.
An Affordable Opportunity for Smarter Marketing
Can your brand do this? Yes, and you don't need Chanel's marketing budget to do it.
As Nuts.com proves with simple, two-color printing on cardboard, almost any marketer can use the product shipment as a high-impact channel in a smart marketing strategy.
Take a close look at your pick, pack, and ship operations and your shipping containers and materials to see how you can bring your brand to life in a product shipment.