When Bad Data Happens to Good Direct Mail
Direct mail is a vital marketing tactic for many of the world's most successful marketers. When done well, direct mail can drive sales, generate leads, and boost web and retail traffic like few other marketing approaches.
But even the best direct mail campaigns can fail when marketers use bad data.
Customer and prospect data drives direct mail marketing. Data that's outdated, inaccurate, or poorly processed can turn a good direct mail campaign into a wasted opportunity.
Here are two examples of excellent mailings that failed because smart marketers that are usually highly skilled users of the channel relied on the wrong data.
C'mon, Capital One: You Should Know Better
Capital One is one of the most effective marketers in the credit card industry. Their iconic "What's in Your Wallet?" campaign with celebrities like Jennifer Garner and Samuel L. Jackson has helped them become one of the largest card issuers in the U.S.
Capital One is also a prolific direct marketer of consumer cards and Spark business cards. I frequently receive their consumer and business card mailings.
Here's the most recent Spark card mailing. It's classy and professional. The 6" x 11" carrier envelope is a high quality vellum stock in "banker" navy blue, with silver foil ink, even on the label. There's a saddle-stitched brochure with soft-touch varnish on the cover, a personalized one-page letter with "exclusive invitation codes" for applying online or calling toll-free, and a one-panel lift note, also with silver ink.
These are smart B2B direct mail techniques and Capital One has executed them well. Except for ONE thing: The mailing data.
Take a look at the mailing label. The company name is misspelled and the address is an office suite in Cleveland, Ohio that we left five years ago.
It could be worse. I received three B2B mailings today, two from national mailers, addressed to Gean Gianfagna at this same old address –  bad data on some compiled list that just won't disappear.
But that doesn't excuse Capital One's data errors and it makes you wonder: How can a marketer this good be using data this bad?
You, Too, Consumers Union
Consumers Union publishes Consumer Reports, the bible for objective product and service evaluations. I've been a subscriber for years, first in print and now online.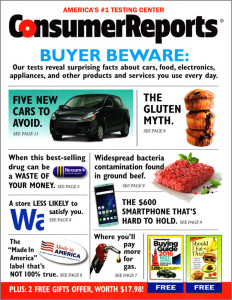 Consumers Union takes a classic creative approach to subscription direct mail, with an 8-3/8" x 10-3/4" selfmailer featuring a colorful "Buyer Beware" teaser headline that make you want to know more. The copy in the full-sized, saddle-stitched insert includes snippets of findings about ineffective drugs (Nexium), retailers with poor customer satisfaction ratings (Walmart), misleading labels, and other dangers you could avoid if you were a subscriber.
There's a bound-in reply card, a risk-free offer, two free gifts, big red "Xs" through the full prices you WON'T pay for regular issues, and a sparkly, peel-off "FREE" sticker.
These are proven consumer direct mail techniques and Consumers Union clearly knows how to use them. So why is this a #mailfail?
You guessed it: Bad data. The name and address are accurate but as noted above, I'm already a subscriber.
Does Consumers Union want me to add print to my online subscription? If so, the mailing should be an upsell promotion addressing the benefits of print + online access AND referencing my long-standing status as an online subscriber.
Since neither of these points is made in the mailing, I think they just failed to merge/purge the prospect list against the subscriber file, a mistake you wouldn't expect from such a respected direct marketer.
Rule #1: Get the Data Right
As these examples show, the very best direct mail campaigns in the world can be ruined by bad data.
If you're planning a direct marketing campaign, here's my advice as a marketing consultant who strongly believes in the channel and recommends it to clients: Invest in the best data and the highest quality data preparation before you spend a penny developing the creative concept. Without the former, the latter is a waste of your marketing resources.