How Great Direct Mail Helps a Retailer Win Back Customers
Direct mail is often used to reactivate lapsed customers, but few direct marketers do it well. Instead of a powerful, personalized appeal that rekindles the relationship, they turn the customer off with a generic message, irrelevant content, and a "so what?" offer.
But when a direct marketer gets it right, with a highly personalized, data-driven message, a compelling offer, and a warm invitation to re-engage, it's a thing of marketing beauty.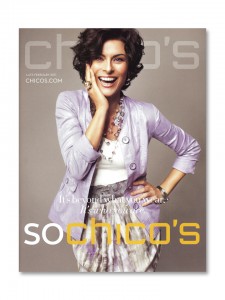 Here's how a major women's retailer – Chico's – nailed it with their customer win-back direct mail campaign, and six lessons from their direct marketing success story that you can apply to your smart marketing strategy.
Come On Back!
Chico's is a specialty retailer that sells sophisticated, casual-to-dressy clothing to women via catalogs, the web, and more than 1,000 retail stores. Like most retailers, Chico's has a customer loyalty program to track buying behavior and spur additional sales.
I've shopped a lot at Chico's, but not much lately. To win me back, Chico's sent me this direct mail package.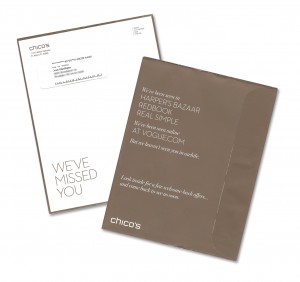 It's an 8-3/8"x 10-7/8" package with simple mail panel copy: We've missed you. On the back of the envelope is a short message that succeeds both in positioning Chico's as a fashion leader and acknowledging my absence from their store:
"We've been seen in Harper's Bazaar, Redbook, Real Simple. We've been seen online at Vogue.com. But we haven't seen you in awhile. Look inside for a few welcome-back offers…and come back to see us soon."
A Friendly, Flattering Message Driven by Customer Data
Inside the envelope are the latest catalog and a brief letter from Cinny Murray, the company president.
This letter is a case study in how to use a customer's purchasing data to create a high-impact, one-to-one message. Here's the friendly, engaging lead sentence:
"I love our new spring collection and thought it was the perfect time to connect with you."
The letter then pivots brilliantly to my individual interests by talking about what I've purchased at Chico's in the past:
"I remember that you love our Travelers collection," the letter reads, describing the current Travelers line as being "reinvented as a chicer-than-ever collection."
The letter invites me to meet with a "Style Expert" who is "always on hand to help you look and feel fabulous" and concludes with an invitation to come back: "Please come back into our boutique soon to see our latest Travelers styles and the rest of the new spring collection…"  The president also provides her email address and "personal customer hotline."
The Icing on the Cake: Customized Offers
This is a great letter: Brief, sincere, and highly personal. But where this direct mail package really shines is the offer.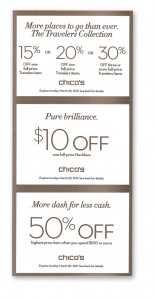 Attached to the letter is a second page with three lasered coupons: 15-30% off on the Travelers collection, $10 off on a necklace, and 50% off the highest price item when I spend over $100.
This offer is exactly what smart direct marketing is about:
It's tailored specifically to my previous purchases (the Travelers collection and jewelry);
It's designed to get me to spend at least $100;
And it has a short deadline to get me to act now.
Six Lessons for Your Smart Marketing Strategy
Here are six takeaways from this direct marketing success story that you can use to reactivate your lapsed customers with direct mail.
Write warm, engaging copy with a sincere, "me-to-you" message from a real person.
Show the customer what they've been missing and get them excited about what they'll experience when they return to you.
Tailor the copy to the customer's buying habits by using transactional data.
Treat the customer like someone special by making multiple, high-value offers, including offers tailored to their prior purchases.
Place a deadline on the offer to spur the customer to act now.
Make the customer feel important by using the company president as the letter author.
My Free Marketing Advice to Chico's
Since I often advise clients of my marketing consulting firm on how to create effective direct mail, I'd advise Chico's to add two things to this package: A reminder of the location of my local store in Cleveland, Ohio, with a map, and a P.S. The P.S. is still one of the most-read parts of any direct mail package and they missed an opportunity to remind me that the offers expire soon.
But these are minor quibbles. Compared to most retail direct mail, which is written for the masses with generic coupons full of redemption restrictions, Chico's and its marketing agency deserve praise for a smart marketing strategy and direct marketing effectiveness.