4 Things My Idea File Taught Me about Great Direct Mail
Most marketing agencies keep an idea file of creative, interesting promotions by other marketers that serve as inspiration for new marketing campaigns.
Since we're moving soon to new offices (a new suite in the same building in Cleveland, Ohio), I decided to take the opportunity to weed out our idea file, especially our massive collection of direct mail.
I tossed a lot of old stuff, but I was surprised at how many direct marketing campaigns created five, ten, or even 20 years ago still pack a powerful marketing punch.
I wondered: Why do some direct marketing campaigns stand the test of time? What do these campaigns have in common that makes them so effective?
Here are four things our old idea file taught me about great direct mail that you can apply to your smart marketing strategy.
Proven Principles of Direct Marketing Don't Change
As a marketing consultant who advises clients on direct marketing strategies, I'm always on the hunt for effective business-to-consumer (B2C) and business-to-business (B2B) direct mail ideas and techniques.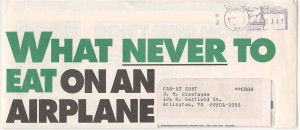 Looking back through the gems in our idea file, I was reminded again of four proven principles of effective direct mail:
1. Write engaging teaser copy that grabs the reader and doesn't let go: Teaser copy is the most important message in a direct mail package. Here are four irresistible examples of excellent teaser copy:
5 Words You Never Want Your Wife or Husband to Say. Know what they are? See inside. (Life insurance; payoff copy inside: "There wasn't enough life insurance")
What NEVER to eat on an airplane. (Newsletter subscription)
As it turns out, your mother was wrong. (Software company; payoff copy inside: "You DO know everything")
"We need someone with vision, creativity, and great marketing instincts: Someone like Jean Gianfagna." (Cartoon caption on an Advertising Age subscription mailing that's still a classic)
2.  Use paper to make the reader want to touch and hold the mailing: Many of the most effective campaigns in our idea file use paper creatively. Translucent or clear carrier envelopes, a brown paper bag, high gloss paper, or a rich, textured stock can transform a direct mail promotion.
3.  Select a creative format to stand out in a cluttered mailbox: Direct mail offers unlimited creative options, especially with formats. Mailings with odd dimensions, interesting folds, string or ribbon ties, very large envelopes, very small envelopes, die cuts, wax or foil seals, and pop-ups are among our keeper campaigns.
4. Deploy dimensional direct mail that screams "open me:" Dimensional direct mail can't be beat to get attention, especially in B2B marketing. A small, clear plastic bottle holding a note, sand, and a tiny beach umbrella, a piece of wood, a small box with a key inside, an actual metal mailbox, and a lumpy mailing with half a Swiss Army Knife showing through a window (and a great teaser: "Open carefully: Knife inside") are just a few examples of outstanding dimensional mail we've saved.
Keep an Idea File for Education and Inspiration
Truly great marketing campaigns grab your attention, engage you immediately in a relevant message, get your head nodding in agreement, and make you eager to say yes. If you run a marketing agency or a corporate marketing department, an idea file can help educate your team on these principles of effective marketing and get the creative juices flowing when you're looking for new marketing ideas.
Do you have favorite or classic promotions in your idea file? Please share them!