Welcome to Ohio, the Eye of the Political Advertising Storm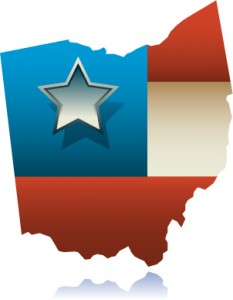 If you live in a solidly red or blue state, you may be seeing very little political advertising this presidential year.
But here in the Buckeye State, we are drowning in political ads for the presidential campaign and the U.S. Senate race between Sherrod Brown and Josh Mandel.
How bad is it? Here's a snapshot of what life is like in Ohio and other swing states this election season – and some thoughts about whether this massive media buy is a smart marketing strategy.
All Political Ads, All the Time in Ohio
You cannot escape political advertising right now in Ohio, especially in Cleveland, where I am a marketing consultant.
The Cleveland/Akron media market is the top market for political ad spending so far in 2012, according to Television Bureau of Advertising data reported in Broadcasting & Cable. Almost $37.3 million has been spent on political TV ads in Cleveland/Akron alone through September 2.
The next biggest media markets are in other swing states: Washington, DC (Virginia,) Tampa-St. Petersburg (Florida), Las Vegas (Nevada), and Orlando-Daytona Beach-Melbourne (Florida again). Other media markets in Ohio aren't far behind.
What does this kind of money buy? It's not unusual to see 8 to 10 political ads per half hour during the local evening news on Cleveland TV stations. Ads run back to back to back.
All decked out in your scarlet and gray jersey and Buckeye necklace for the Ohio State football game on TV? The last ad before kickoff is for Josh Mandel. All settled in your PJs for the season premiere of Saturday Night Live? Before it's live from New York, it's a political ad in Ohio.
TV isn't the only medium dominated by political advertising. Our mailboxes are filled with direct mail. Billboards along major highways are running political ads. And our phones never stop ringing. One recent evening, our home phone rang five times between 5:30 p.m. and 8 p.m. with caller IDs like "unknown caller," "000-000-0000" and "toll-free call." We're now getting robocalls from one of the presidential candidates.
I know I'm whining, but if you lived here, you would, too. Everyone I know is crying "Uncle!" on political advertising. It's been like this for months. And we still have more than seven weeks to go until the election.
Is This a Smart Marketing Strategy?
With Ohio's importance to the presidential race and the potential impact of the Brown-Mandel race on control of the Senate, it's obvious why campaigns and Super PACS are pouring ad dollars into our state.
But are these ads working?
Polls show that few voters at this point are undecided and most say there's little that could make them change their minds. The latest NBC News/Marist survey reports that only 3% of Ohio voters say they might vote differently for president in November than they plan to vote now.
As a marketing strategist, I think it's very possible that the volume of political marketing in Ohio is a key reason so many voters have already made their decision. If so, the ads are probably paying off. On the other hand, with so few undecided voters left, ads from this point on could be falling on deaf ears.
There's also the clutter issue. With so much advertising, can any message break through?
Even more important, after months and months of ads, is anyone still listening? Many Ohioans are so tired of political ads that they're tuning them all out.
In the end, the answer to the question of whether an unrelenting deluge of political advertising is a smart marketing strategy will be determined by the outcome of the election and by post-election surveys of how much advertising influenced voters.
No matter who wins, we can be sure that in 2016, the cycle will be repeated in Ohio. Good thing we have four years to brace ourselves.