6 Marketing Lessons I Learned as the Mother of the Bride
Brides are spending big money on weddings.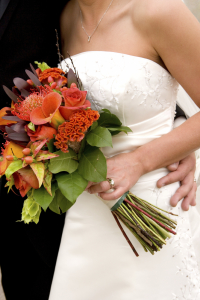 According to the Wedding Report, the cost of an average wedding in the U.S. is $25,200.  Market research firm IBISWorld estimates that the U.S. wedding industry has grown to $55 billion in annual sales.
That's a lot of cake, tulle, and flowers – and as the mother of the bride, I can tell you from personal experience that it's also a fascinating example of what works (or doesn't work) in sales and marketing.
Here are six lessons for your smart marketing strategy that I learned as the mother of the bride.
6 Reasons Why Buyers Choose You – or Don't
My daughter's wedding takes place this summer in Cleveland, Ohio. For the past year, she and her fiancé have been evaluating vendors for everything from dresses to stationery to reception sites. I've been fortunate to be involved in much of the planning.
We've said yes – and no – to many different companies. As a marketing consultant, I have found the experience an interesting case study on how and why marketers win a customer's business. Here's what I learned:
Advertising builds brands: Almost every bride-to-be studies those massive bridal magazines, searches wedding websites, and watches Say Yes to the Dress. By the time they hit the stores, brides not only know the styles they want, but the designers.
The marketing lesson: Advertising plays a powerful role in creating brand awareness and brand preference.
The customer's experience drives the sale: Though all bridal salons sell similar products, our experience as shoppers swung from awful to wonderful. We experienced hard sell, soft sell, and no sell approaches, including the salesperson who disappeared, leaving my daughter to get into and out of gowns on her own. The store where she bought her dress was the one that offered the most attentive and professional service, including a champagne toast for mother and daughter, as well as a fabulous gown.
The marketing lesson: Buyers want to do business with companies that treat them right, especially for high-ticket purchases. Buyers can justify and will pay more for top-level service.
Packaging sells: While vendors who sold us "wedding" or "bridal" packages often added value that warranted the higher price, special branding and packaging tended to increase the appeal and reduce price resistance.
The marketing lesson: Creating special packaging for a product or service gets the buyer's attention and gives you the ability to raise your price.
Customers talk: Brides love to talk about their vendors, good and bad, on TheKnot.com and WeddingWire.com. Bad reviews eliminated many vendors who never even got a phone call.
The marketing lesson: Your prospects are fully vetting you online before they buy from you, no matter what you sell. It's essential to monitor online reviews and comments about your business, both on social media and industry-specific channels.
Emotion influences every buying decision: We did our best to make clear-headed, smart decisions about products and vendors, yet in the end, we chose companies we had the strongest feelings about, even if it cost more. Even more important: In most cases, the vendors that made my daughter feel valued and understood – they got her vision for the wedding and helped her feel confident about the outcome – got the order.
The marketing lesson: Human emotion impacts every purchasing decision. How your product or service makes the customer feel about themselves is often the determining factor in the purchase.
Convenience is value worth paying for: Vendors who made things easy – were easy to work with, delivered on time, were easy to pay, delivered what was ordered, answered questions, offered sage advice, were easy to contact, and fast to respond to questions – were worth their weight in gold.
The marketing lesson:  If convenience is part of your value proposition, you will quickly become a preferred vendor who reaps the rewards in referrals, reviews, and revenue.