7 Ways to Avoid Overcommitting with Marketing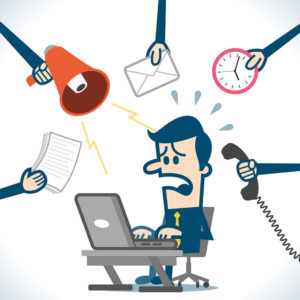 Are you working on your marketing plan?
Depending on your goals, your project list could include everything from revamping your brand or website to starting an inbound marketing program to launching a new product of service – just to name a few examples.
But even if you have the budget to execute these important projects and a marketing agency standing by to help, there's another factor that can impact your success: Your internal marketing bandwidth.
Someone on your team has to make all that marketing happen. If you're a small business owner, it could be you – and it can be all too easy to get in over your head.
In my experience as a marketing consultant, there's a limit to how much marketing most businesses can manage, even with outside assistance.
Here's how to prevent this problem in your smart marketing strategy.
Why Your Internal Bandwidth Matters in Marketing
Famed ad man Jerry Della Femina likes to say that advertising is the most fun you can have with your clothes on.
He's right. But advertising and marketing also are a lot of work.
Here are just some of the responsibilities you have when you're managing marketing for your organization:
Plan projects and campaigns, establish timelines, and set deadlines;
Create RFPs, review proposals, and select suppliers;
Communicate with vendors, often many times a day;
Enable access for your vendors to information, data, images, or subject-matter experts;
Conduct market research;
Review creative concepts and provide feedback;
Manage the internal review process for approving materials;
Check proofs;
Plan and monitor the budget;
Approve estimates and invoices;
Evaluate media plans;
Manage the marketing database;
Monitor conversations about your company on social media;
Review analytics and results reports;
Police the use of your brand to be sure that all marketing activities support the brand message and meet brand guidelines;
Track your competitors' marketing activities;
Coordinate marketing campaigns with your sales team and establish the process for lead follow-up;
And much more.
If you don't have the time or team to do all this, it can be a recipe for disaster. Deadlines get missed, project timeframes get squeezed, and vendors have to pull off miracles. Both you and your agency will be frustrated. Your boss might start questioning your management skills.
Most important, your investment in marketing won't produce the best results.
7 Ways to Stay within Your Company's Marketing Limits
How can you avoid taking on too much marketing? Here are the steps I recommend when I help my clients develop marketing plans:
Assess your internal capabilities: Take an honest look at how much you and your staff can effectively manage. Recognize that your time is as important as your budget and probably more limited.
Prioritize your efforts: You can't do it all. Assess everything you've planned and rank activities by their potential impact on short- and long-term sales. Do the high-impact stuff first and the rest when time and resources permit.
Use project management software: Invest in a project management system to schedule and monitor marketing projects and keep everyone on track.
Increase your staff: If you have the budget, consider adding a project coordinator.
Manage up: Help your boss understand what he or she needs to approve (or doesn't need to approve) and when. Alert them in advance and follow up if approvals lag.
Ask your suppliers for help: Your marketing agency may be able to take on a bigger role in project management or manage their use of your time more judiciously so you aren't getting dozens of emails a day from multiple agency staffers.
Keep your perspective and keep smiling: Never forget you've chosen one of the most fun, exciting, and creative careers anyone can have. Yes, it can be stressful but it's still pretty darn great.